USA Prime Baseball Partnership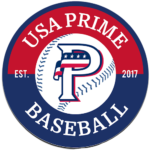 USA PRIME has three #1 teams in the Nation and is the largest full service amateur baseball organization in the United States. USA Prime Baseball Was Established In 2017 With The Primary Goal Of Addressing The Void We Had Witnessed Firsthand In Youth And High School Baseball.
Our Mission Is To Prepare, Develop, And Mentor Baseball Players To Achieve Their Goals In Baseball And Ultimately Reach Their Full Potential. USA Prime Aims For All Our Baseball Players To Play Some Level Of College And/Or Professional Baseball.
We Have Built A Nationwide Team Of The Best Coaches And Placed Them In An Environment That Continuously Motivates And Challenges Them To Be The Best They Can Be To Provide The Greatest Opportunities For Our Players.
What does this mean for Gashouse?
Gashouse will be USA Prime Gashouse as of Spring/Summer 2023.
We will have National backing for ANY tournament entry going forward.
National Ranking tournament entries.
USA Prime communication/app.
National support and group of coaches to help with plans to develop.
No increase in fees.
Continued club support and fundraising.
No new owners or coaches.